Anyone that is interested in nature has probably heard of the severe decline in
Monarch Butterfly
(
Danaus plexippus
) populations.
Researchers measure the population by calculating the area that the overwintering population occupies. This year that number is down to 0.67 hectares - this equal to an area of approximately 268.5 feet by 268.5 feet. This is roughly equal to the size of 1 1/4 American Football fields. This is down from an overwintering population that covered 1.19 hectares last Winter (2012-13).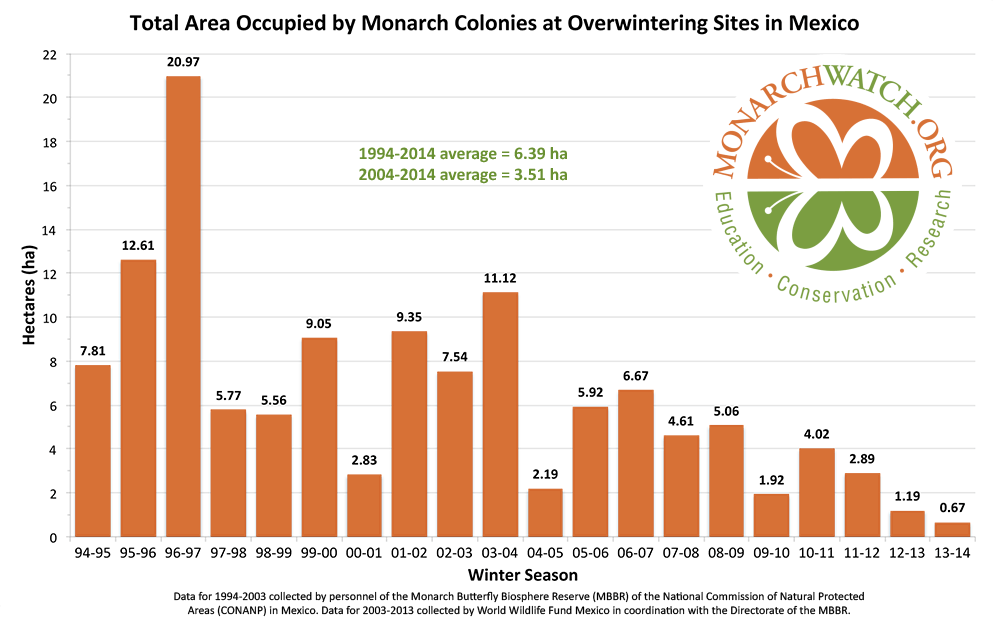 Area occupied by overwintering Monarch Butterflies - monarchwatch.org
There are a number of factors that have contributed to the decline of the Monarch Butterfly including drought, pesticide use, changing farming practices, etc. While there may not be anything that you can do about those bigger issues, there is one thing that you can do to help Monarch Butterfly populations - provide habitat for them in your yard. The number one thing that you can do for Monarchs is to plant milkweed plants in your garden. Milkweeds are the only larval host plant of Monarchs; their larva cannot eat any other food. While there are many varieties of milkweed, the one that Monarchs rely upon across their range is the Common Milkweed (Asclepias syriaca).
If you are interested in planting Milkweed in your garden, I have nine packs of Common Milkweed seeds (50 seeds in each pack) that I am willing to give away to anyone who lives within the native range of plant. To get these seed, just send me an email. Seeds will be sent out to the first nine people who email.
Range map of Common Milkweed