Two of my favorite events of the year are occurring soon in East Lansing - the Quiet Water Symposium and the Wildflower Association of Michigan Annual Conference. Both of these events take place on the campus of Michigan State University as part of MSU's
Agriculture and Natural Resources Week
.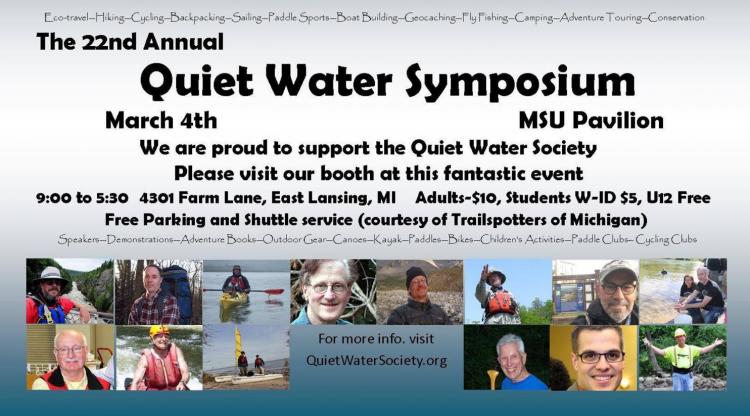 The
Quiet Water Symposium
(QWS) will be happening on Saturday March 4th. The Quiet Water Symposium is an event that focuses on non-motorized forms of recreation such as canoeing, kayaking, hiking, and cycling. The event features approximately thirty
hour-long presentations
and over 200 vendors/exhibitors. It takes place at the MSU Pavilion for Agriculture and Livestock Education (4301Farm Lane, East Lansing, MI) from 9:00AM to 5:30PM. The event costs $10 for adults, $5 for students with identification. Children under the age of 12 are admitted free.
I will be helping my brother run a booth for his business (
LeValley Outdoors
) at QWS, but I always find time to wander around the exhibit area. I enjoy looking at all the old and new canoes and kayaks. I know quite a few people who are there representing different organizations. I usually come home with several books from the Michigan Audubon bookstore, other outdoor books, maybe an old woodworking tool (or two), and sometimes even gifts for Shara.
The other event that I am looking forward to is the
Wildflower Association of Michigan annual conference
. This event takes place on Sunday March 4th and Monday May 5th at the Kellogg Hotel and Conference Center (219 S. Harrison St., East Lansing, MI). Early-bird registration for the WAM conference closes in two days (February 23rd), after that you can do a walk-in registration at the conference. Walk-in registration is $80 for Sunday or Monday and $150 for both days. Membership to WAM is required to register and costs $15 for an individual. A buffet style lunch is included in the registration cost.
While it is a bit pricey, this is the one conference that I make sure to attend every year. The keynote speakers are usually great and I learn a lot at the concurrent sessions. It's a great place to pick peoples' brains if you have any questions about wildflowers and wildflower gardening - I make new connections and renew old connections every year. They also have a room for vendors (books, jewelry, photography, pottery, art prints, etc.) - I always end up spending more than I should on wildflower and gardening books, sometimes art prints, and usually a piece of jewelry for Shara.
If anyone ends up deciding to attend either of these events let me know.